Christmas Specials
Come along on the journey and get in the culinary mood for the Christmas season.
WHERE HISTORIC CITY MEETS HOTEL OF THE FUTURE
From art to architecture, cathedrals to chocolate, explore Cologne the art'otel way.
Art'otel
Destinations
THE COOL SIDE OF COLOGNE
Exclusive art. Fresh design. A riverfront location on the Rhine. Welcome to art'otel Cologne, your ticket to western Germany's cultural capital. Whatever is calling you to the city, from architectural adventures by day to club hopping by night, we've got you covered with the best location to take it all in.
Panoramic views? Check. Swoon-worthy rooms? Check. And the cherry on top: bold mixed-media paintings from Signature Artist SEO to rep the spirit of the city. Add in state-of-the-art fitness facilities, a chic restaurant and bar, and sun-soaked terrace, and you've got a recipe for a dream Cologne escape.
let's
make
memories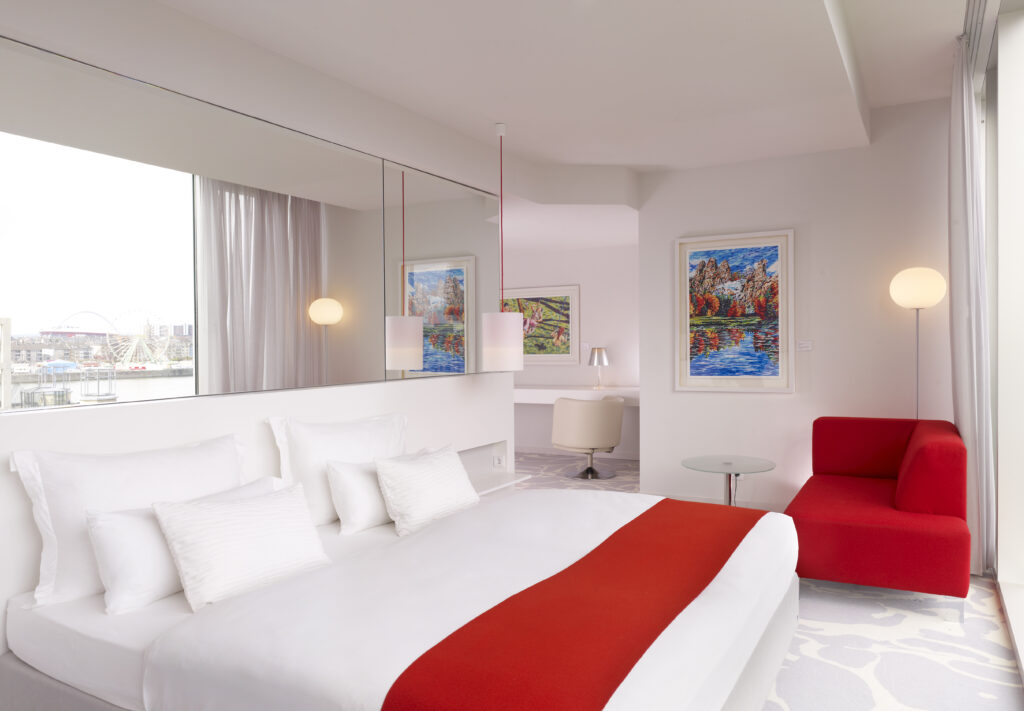 Art Room-Panorama-Harbour View
Sleeps 3 adults or 2 adults and 1 child (aged 0-11). King Bed. 44 sq m. Top floor living with plenty of space to make a mini home for your trip. Soak up panoramic views of the harbour and make the most of our central spot.
Art Room-Corner
Sleeps 3 adults or 2 adults and 1 child (aged 0-11). Queen Bed and Sofa Bed. 34 sq m. Nestled in the corners of the hotel, these rooms boast city views out of floor-to-ceiling windows, and extra space to fit three guests.
Art Room XL
Sleeps 2 adults. Queen Bed. 28 sq m. Can't get enough of the Rhine? Enjoy views of the river from our Art Room XL, which comes with more space.
Art Room-Rhine View
Sleeps 2 adults. Queen Bed. 24 sq m. Our classic Art Rooms, with a view of the Rhine. Ideal for winding down after a day of exploring or a busy business trip.
Art Room
Sleeps 2 adults. Twin or Queen Bed. 24 sq m. Rest your head in our comfortable room for two (or spacious pad for one), complete with a view of the city right outside your window.
EAT & DRINK
ART'EAT & ART'DRINK
From big dishes to small snacks, the bar and restaurant at art'otel Cologne will satisfy any appetite. Add in a prime location directly across from the river, vibrant artwork and an electric atmosphere, and you've got one of the best places to eat in Cologne.
DISCOVER MORE
ALFRESCO
Views, views, views! It doesn't get much better than alfresco dining on our terrace along the river Rhine. Soak up the sun during the summer months, and enjoy signature cocktails, artisinal menus and a relaxed vibe.
DISCOVER MORE
OUR SIGNATURE ARTIST
Born Seo Soo Kyoung in South Korea, Berlin-based artist SEO explores her two cultural identities through exceptionally detailed mixed-media canvases. Her journey started in 2001 at Universität der Künste (University of the Arts), where she studied under contemporary icon George Baselitz (Signature Artist of art'otel Berlin Mitte). Since then, she's risen the ranks to become a crucial figure of German art in her own right. Her colourful pieces feature 10,000 strips of handmade Hanji paper, acrylic paint and detailed line work to draw the eye. And they've resonated around the world. Don't miss the opportunity to view more than 300 of her exclusive works on display at art'otel Cologne.
Hotel Amenities
Explore what's on offer...
Centrally located
Sauna
Creative meetings & event spaces
Gym & wellness area
Restaurant & Bar
Outdoor dining
Art collection by Signature Artist
NEWS & MEDIA
Keep up to date with all our latest news and media info, or contact our team below.
LOOKBOOK
Take a peek inside the hotel with our lookbook of images
Best Online Rates Guarantee
Found a lower rate? We'll match it and give you an additional 25% discount on your stay.
Here's how it works
Your reservation must be made on Radissonhotels.com and claim must be validated by our Customer Care team.
The Best Rates Guarantee does not apply to the following rate types:
Qualified discount rates available to members of special programs or associations (i.e. AAA, senior, government, loyalty, employee discounts);
Special "exclusive offers" or "online coupons" or email solicitations not intended for the general public;
Rates not publicly available, such as negotiated Group or Corporate rates; including group extend-the-stay rates;
Package rates that include the room and other components such as parking, travel, car rental, entertainment, or meals excluding breakfast;
Rates found on opaque, bidding, or auction sites where the hotel brand, the specific hotel, the hotel location or price is not known until booking is finalized. Examples of these types of sites include but are not limited to Priceline and Hotwire;
Any other unpublished or private rates or sites requiring login.
Comparison Rates
Comparison Rates: The Comparison Rate must be found on a website available to be booked by the general public other than Radissonhotels.com within 24 hours of booking your hotel room on Radissonhotels.com and at least 48 hours prior to midnight hotel local time of your arrival date.
The Comparison Rate must be for the same hotel, same reservation date(s), same room type (i.e. room size and amenities), same number of guests, same currency as the Radissonhotels.com confirmation email, and the same advance payment and refund policies and restrictions must apply.
The Comparison Rate must still be available at the time Customer Care validates the claim.
The rates will be compared net of any taxes, gratuities, or any other fees associated with the room rate; however, if the Radissonhotels.com rate has taxes included, we will verify that the total cost of your Comparison Rate is lower so that prices are compared on a relative basis. Rate disparities solely attributable to rounding, fluctuations and/or difference in currency exchange rates are excluded from the Best Rates Guarantee. Claims will be denied when the difference between the Comparison Rate and the rate on Radissonhotels.com is less than 1USD, 1EUR or 1GBP or equivalent in the local currency of the hotel.
When a claim covers a stay for multiple, consecutive nights, the rates will be reviewed based on the average over the entire stay (the total consecutive nights stayed by the same guest or guests in the same hotel, regardless of the number of check-ins or check-outs or separate reservations). Comparison Rates applicable to only a portion of the reservation will not be honored.
If your reservation meets these criteria, let us know by submitting the claim form.
Customer Care will verify the rate meets all of these Best Rates Guarantee terms and conditions and contact you via email. Once confirmed, we will match the lower rate and discount that rate by an additional 25%. For prepaid bookings, the difference will be refunded on the applicable credit card by the hotel. You may only submit one claim for each stay.
If a new reservation confirmation number is provided for the new rate, it must be presented at the hotel at the time of check-in.
The Best Rates Guarantee is void where prohibited by law.
We reserve the right to change or discontinue the Best Rates Guarantee at any time without prior notice. We retain the sole right to determine the validity of any claim, whether a rate qualifies as a Comparison Rate, and whether a claim has satisfied the terms and conditions stated herein. Any dispute arising out of or related to the Best Rates Guarantee shall be handled individually and without any class action and is subject to the terms of the site usage agreement found on Radissonhotels.com. If the Comparison Rate is reserved through any Website other than Radissonhotels.com, we are not responsible for any fees or other costs incurred due to cancellation of a reservation.
Submit a claim
With our Best Rates Guarantee you can book on Radissonhotels.com and be confident you are receiving the best hotel room rate available on the web – guaranteed. If you find a lower rate within 24 hours of booking and at least 48 hours prior to your arrival date, submit a claim and we will honor the lower rate and discount that rate by an additional 25%. Book today!
Who do I contact if I see a lower rate on another website?
Within 24 hours of making your reservation on Radissonhotels.com, visit the Contact us section of Radissonhotels.com and select "Online" contact method and "BORG claim" for topic.
A completed claim form must be submitted within 24 hours of the booking and at least 48 hours prior to midnight local time of the hotel arrival date to be eligible.